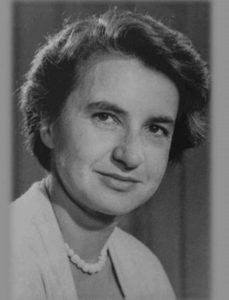 The new nine-month programme is due to open for applications later this year and will incorporate a blended learning style with mandatory and comprehensive online learning, face to face workshops and small group work.
It aims to help shape the knowledge, skills, attitudes and behaviours of clinical or non-clinical mid-level leaders to help them become outstanding leaders, and for the NHS to develop inclusive and compassionate leaders working at all levels across the NHS to help improve patient care, people's health and their experiences of the NHS.
The programme is aimed at mid-level clinical or non-clinical leaders aspiring to lead large and complex programmes, departments, services or systems of care.
The NHS Leadership Academy has a proud tradition of naming its leadership development programmes after those who have had a positive and influential impact on health care. Rosalind Elsie Franklin was a British scientist best known for her contributions to the discovery of the molecular structure of DNA and the understanding of the structure of viruses.

Other current NHS Leadership Academy programmes include:
Please visit https://www.leadershipacademy.nhs.uk/news/rosalind-franklin/ to find out more and register your interest. Applications are due to open in autumn 2018.