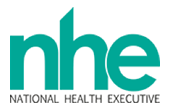 NHS trusts made £288m in savings during the last financial year by buying cheap everyday essential such as syringes, toilet rolls and disposable gloves by comparing prices between trusts across the country, according to the latest figures from NHS Improvement (NHSI).
The savings show how committed the NHS is to spending public money wisely, NHSI says, with the money saved being reinvested into other services and equipment.
NHS trusts were able to make the savings using NHSI's price comparison tool by comparing how much neighbouring trusts were paying for commonly purchased items so they could find the best suppliers and negotiate the best deals.
The comparison tool ranks the prices of over a million products and also sets a benchmark for each product to help trusts avoid paying more than they have to and make efficiency savings.
National Health Executive
22/10/18